The AAG Susan Hardwick Excellence in Mentoring Award
Deadline: September 15, annually
The AAG Susan Hardwick Excellence in Mentoring award is given annually to an individual geographer, group, or department who has demonstrated extraordinary leadership in building supportive academic and professional environments in their departments, associations, and institutions and guiding the academic and or professional growth of their students and junior colleagues. It is named in honor and memory of the late Susan Hardwick, the inaugural recipient of this award and a beloved mentor, scholar and colleague.
Nominations are sought to recognize individuals, groups, or departments who have increased the number of students and faculty from underrepresented groups, improved the quality of their participation in geography or who have impacted the climate of a department, college, or institution toward greater inclusion. Self nominations are also welcomed.
The Awardee(s) will be invited to participate in an interview or contribute a publication for Journal of Geography in Higher Education that identifies and promotes specific mentoring practices that are replicable, effective and highly valued in order for these actions to be shared with the broader AAG community.
Eligibility: Individual geographers, groups, or departments are eligible for nomination. Nominations from a wide spectrum of mentors in the geography community are encouraged, including from academic, public, private, and non-profit sectors. The relationship may be between mentor and students or mentor and junior faculty or employees. Posthumous nominations are generally not accepted.
Criteria: The award will honor individuals, groups, or departments who consistently do one or more of the following:
Have succeeded in establishing formal, informal, or quasi formal channels for providing support to students, junior faculty and/or employees
Have a proven track record of successfully graduating students and setting them off into academic or other positions.
Support junior peers (not necessarily from their own institution) to advance, including but not limited to areas such as promotion, tenure, portfolio development, peer-reviewed research, publishing, course development, project development, grant writing, community engagement, or other activities related to career growth in academia, public, or private sectors.
Offer sound counsel and valuable information to their mentees in order to advance and develop the mentee's own path to academic and professional success.
Generously share their valuable time and expertise in improving the mentee's work.
Help to create a vital and engaged geography community at their home Institution or association.
Involve students, junior faculty and/or employees in projects, publications, grants and conferences, as well as readily sharing knowledge of such opportunities.
Make others aware of the contributions and value of their students, junior faculty, and/or employees.
Serve as role models for their colleagues by maintaining high standards for excellence and engagement.
Demonstrate a commitment to inclusion and to the particular advising and mentoring needs of individuals from traditionally underrepresented groups.
Have developed and carried out specific practices that are replicable, effective and highly valued.
Other evidence of mentoring that warrants recognition.
Nominations: To make nominations for the AAG Excellence in Mentoring Award, include the complete name and address of the nominee, curriculum vitae for the nominee (if the nominee is an individual geographer), and a concise (500 words maximum) yet specific description of the accomplishments that warrant selection according to the above criteria. At least two supporting letters from other individuals (including mentees) must also be submitted. (Self-nominations are accepted with supporting letters from mentees). The deadline for receipt of nominations is September 15.
Submissions: Please gather all required supporting documents before completing the online Application Form at this link. The Application Form will require you to upload all supporting documents before being able to complete your submission. You cannot save a partially completed form and return to it later, so it is important to have all materials ready before accessing the online Application Form. For questions or difficulties, please contact grantsawards@aag.org or call the AAG at 202-234-1450. Alternately, hard copy of nominations can be sent to: Association of American Geographers, Attn: AAG Excellence in Mentoring Award, 1710 Sixteenth Street NW, Washington, DC 20009-3198.
Selections: Nominations for The AAG Excellence in Mentoring Award will be reviewed jointly by the AAG Enhancing Diversity Committee and the Committee on the Status of Women in Geography. A single awardee will be recommended to be approved by the AAG Council at their Fall meeting. No monetary prize is provided. Awards are presented at the Awards Luncheon during the AAG's Annual Meeting.
2021
Hilda Kurtz of the University of Georgia has mentored her students with hands-on facilitation of quality research papers and proposals with a high track record of funding success. Through journal editorship,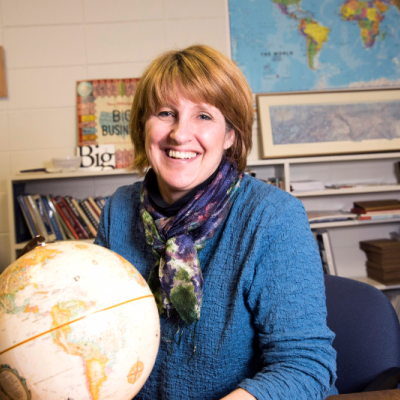 she has mentored diverse early career scholars in academic publishing. She also co-founded the Franklin College Diversity and Inclusion Graduate Fellows Program, which establishes a local community of engagement around social justice. Kurtz has also developed a workshop series focused on work-life balance, emphasizing job market preparation and tanglible skills for success in academe, which have been forally integrated into the Geography Department's required first year graduate student seminar.

2020
Dr. Jeffery Roth of Stephen F. Austin State University is an excellent mentor, who advises
students from a variety of backgrounds. He has demonstrated commitment to supporting students both professionally and personally, thus embodying the exemplary legacy of the late Susan Hardwick. Dr. Roth has served as Geography Club advisor, he continues to create lifelong learners, has received teaching awards, and actively participates, and encourages students to participate in, community activities. It is clear that Dr. Roth has shaped the lives of faculty, students, and members of the community in remarkable ways.
2019
Lorraine Dowler not only mentors at all levels, but is a strong advocate for her mentees. She is committed to the holistic development of her advisees
(students or colleagues), and pays particular attention to the mental, physical, and emotional well-being of those with whom she interacts, especially new faculty learning to balance academia. Dr. Dowler's advocacy of students and colleagues goes above and beyond the criteria listed for this AAG award. Besides her tireless advocacy for students and colleagues, she also continues to advise, research, publish, and contribute to the field of geography. For the qualities and characteristics that Dr. Dowler puts forth, and for her genuine concern for all those that work with her, she is a most deserving recipient of this award.
2018
David Kaplan of Kent State University is an exceptional mentor,serving as principal advisor to over 20
master's thesis student committees and 11 PhD student committees, as well as serving on the committees of dozens of other student projects. Recent advisees refer to him as a "lifelong advisor" who has "enduring and genuine concern" for his students. In addition, his support of junior peers at his institution and elsewhere speaks to his commitment to offer sound counsel and valuable advice to others to advance their academic and professional paths. Kaplan's extraordinary dedication and service to his department, institution and the AAG exemplify the many ways that he is committed to enhancing diversity and inclusion in geography.
2017
Beverly Mullings is a trailblazer in supporting mental health in academia through both her purposeful,
strategic, and actionable advice to the people she supports and platforms she has built for individuals who have been afraid to speak out about mental health. Through her creation of a listserve on mental health and the academy and kickstarting the AAG's mental health initiative she has been a persistent advocate for those most marginalized in our discipline. Dr. Mullings has also been integral in revitalizing both the Gender Studies program at Queen's University and the Journal of Critical Race Inquiry.
2016
Kenneth E. Foote, in recognition of his career-long dedication to being a mentor, but also in helping
other to be successful mentors themselves. He has worked diligently to mentor department chairs and other leaders. He has tirelessly promoted and encouraged colleagues along their career paths, and he has been particularly committed to sharing effective means of mentoring graduate students and faculty. He was co-leader of the AAG's Enhancing Departments and Graduate Education (EDGE) programs, and for more than 10 years he has organized and hosted Graduate Faculty Development Alliance workshops and Department Leadership workshops.
2015

Susan Hardwick has, throughout her long and meritorious career, served as primary mentor or advisor to countless graduate and undergraduate students, as well as supporting K-12 geography teachers in Oregon, Texas, California and elsewhere. Through her service within the AAG and other professional organizations, she has contributed greatly to the mentoring of junior faculty members and graduate students. She has helped many young people enter into and pursue rewarding paths within our discipline, and has been an especially valuable mentor to women in geography. Besides directly mentoring women in the discipline, she has also worked to raise awareness of the experiences of women as they seek to become successful in their careers as geographers.