Emilio Casetti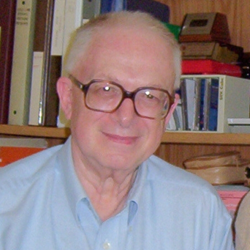 Emilio Casetti, Emeritus Professor in the Department of Geography at Ohio State University, died January 11, 2018. He joined Ohio State in 1963 and retired in 1993.
Casetti was an editor of Geographical Analysis and contributed to its growth. In 1984, he was presented with AAG Honors from the Association of American Geographers. He was also recognized as a Distinguished Scholar at Ohio State in 1992.
Morton O'Kelly, Department Chair at Ohio State, writes:
"Emilio was an exceptionally influential member of the department, and my personal memories are of a very serious, deep thinker. He had a sharp legal mind. … Emilio has used Research Gate to stay remarkably active in the past years."
Emilio studied Law at Sapienza University of Rome and the Government of Italy. He received his doctorate in Mathematical Modeling from Northwestern University.